Sublime & Sensual Smoke Art
Sometimes "going up in smoke" can be a good thing

Natural smoke (and its Photoshop variety) seem to become more and more a media of choice for artistic expression. Today, we'll feature some examples of "smoke art", and marvel at how such an elusive substance can be possibly herded into fascinating shapes.
Artists inherently like smoke for its flux and dynamic properties, and the public seem to enjoy asking the perennial question "What were they smoking?" when seeing a radical and challenging piece of art.

(original unknown)
Abstract, natural smoke meets electricity
First, lets see how a NATURAL smoke can be made to look so wonderful - without any Photoshop manipulations. Sometimes all it takes is a good high-speed strobe flash and a correct exposure to capture ambient light.
Irene Muller examines the inner wisps and curls of colored smoke, producing photographs worthy to be framed in the process. See the whole series on her site.
(image credit: Irene Muller)
Or the smoke that's produced in explosive interaction with electricity:
(image credit: Irene Muller)
More awesome electricity at play here:
(image credit: Luiz Santos, Ohio University)
See the rest of "high-speed photography of explosions" in our previous article.
Lighting Matches - simple act, enhanced by artistic flair
The most basic combination of elements: fire and air (smoke) - make for an endlessly mesmerizing and enchanting dance of evolving forms:
(image credit: Mike Brook)
"Fire and smoke" set from Brent:
(image credit: Brent)
"One Strobe coming from the left and to the rear of the match. Shutter was set to capture ambient flame" -
(image credit: Josh Beeman)
Unintentional Shapes
Unintentional... and all the more surprising for it. Seems like nature can best any our effort to conjure unusual lovely shapes (even if it's milk drops descending into the water... with smoky textures)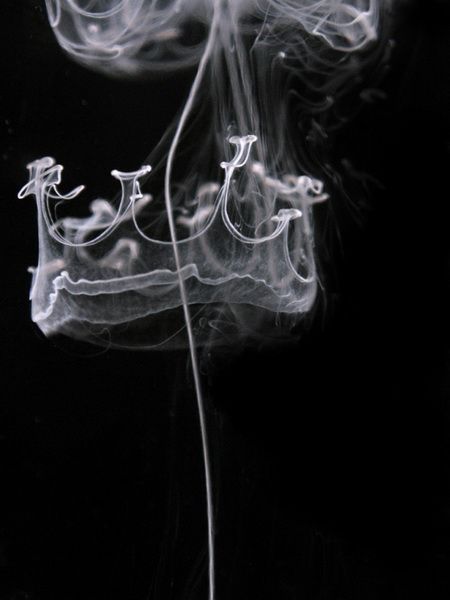 (image credit: Maximilian Jaenicke)
Magical combination of smoke and sunrays in this photo, taken in a rice cracker bakery at Inle Lake in Myanmar:
(click to enlarge)
(image credit: Bas Uterwijk)
Burning incense sticks makes groovy "colored smoke" - a series by Graham Jeffery:
(images credit: Graham Jeffery)
Thomas Herbrich has an excellent series "Smoke" on his site:
(images credit: Thomas Herbrich)
Putting an egg in the middle of the smoke action, makes it even more interesting:
(just make sure that no dazed chicken is about to stagger out of it)
(image credit: Sharlene Shappart)
Can't get enough of this? Check out the "Artsmoke" Flickr pool for daily updates.
Photoshop Smoke Nirvana
What were they smoking? Maybe they inhaled a highly-potent concentration of Photoshop tips, tricks, skills and effects, mixed it with a heady brew of creativity - and produced these
wisps
(for the benefit and enjoyment of the paying client) -
And for the sheer luminous sensuality of smoke (can't touch it, a moment - and it's gone), here are a few retouched smoke dreams from one of the Russian Photoshop forums (where they also discuss steps of how to make such art) -
(images credit: demiart.ru)